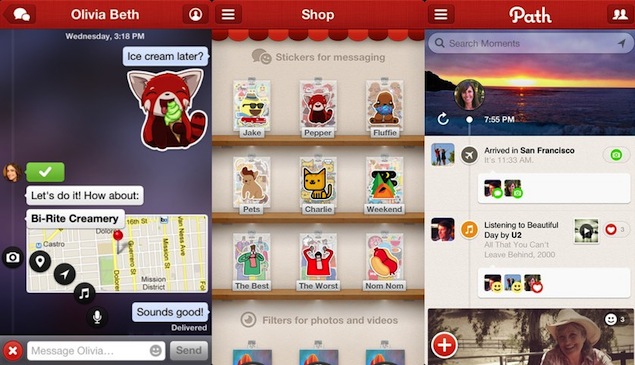 Path v3.0 for iOS and Android brings two new features to the popular social networking app - private messaging and stickers.
Private messaging is exactly what the name suggests, letting users communicate with each others privately using text, location (e.g. letting someone know where you are), photos, videos, the newly introduced stickers and more. Users can also leave each other a voice memo using private messaging. As Private messaging can be one-on-one or in a group of up to 15 people.
Path calls stickers fun pieces of art that can be used for expressing yourself in public or private messaging. Path has bundled a bunch of stickers like 'The Best', 'The Worst', 'Nom Nom' and others. Users can buy additional stickers from the newly introduced store. 'The Shop' also features additional photo filters that users can pick up at a cost.
Path founder Dave Morin told
The Next Web
, that it is on track to introduce a subscription-based in the first half of 2013, but did not offer any details on what additional features the service will offer to paying customers.
Path 3 is available in 19 languages for iOS and Android devices from the
App Store
and
Google Play
.
Path v3.0 for iOS and Android release notes
Messaging - The fast, fun, and private way to message your family and friends one-to-one or in small groups. Use your words, your voice, your location, media, stickers, and more!
Stickers - Say more in a single tap with handcrafted stickers from some of our favorite artists.
The Shop - The hand curated place to find premium photo filters and handcrafted stickers to make your Path experience more you.
Performance improvements.
Bug fixes.